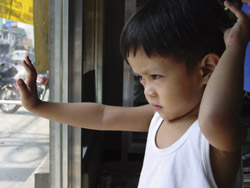 Children's Advocacy Services provides comprehensive treatment services for victims of childhood trauma and their non-offending caregivers. Treatment types include individual and family psychotherapy for children and caregivers using a variety of methods (e.g. play therapy, cognitive behavioral therapy, art therapy, family therapy). Services are provided by licensed clinical professionals and advanced graduate students under the direct supervision of licensed clinical staff.
As member of the National Childhood Traumatic Stress Network, Children's Advocacy Services staff are trained providers of research-supported "Best Practice" treatments for trauma including:
Trauma Focused Cognitive Behavioral Therapy (TF-CBT)
TF-CBT is designed for children and adolescents between the ages of 3-18. TF-CBT is designed to reduce the symptoms of trauma through: educating the child and parent about the effects of trauma, teaching skills for stress management, learning to work through difficult thoughts and feelings related to the trauma, and gradually working through memories of traumatic event(s). Sessions include individual time with the child, individual time with the caregiver, and joint sessions, where child and caregiver meet together with the therapist.
Parent Child Interaction Therapy (PCIT)
PCIT is a structured treatment approach aimed at helping children, ages 2 ½ -7, and their caregivers recover from trauma by improving their relationships and bonds. Therapists coach caregivers in relationship-building activities with their child that encourage improved cooperation and behavior.
Integrated Treatment for Complex Trauma (ITCT)
ITCT (Integrated Therapy for Complex Trauma) is for children and adolescents (6 to 18-years-old), who have a history of multiple traumas, which has resulted in emotional and behavioral difficulties. ITCT is a flexible intervention designed to address specific needs through assessment and intervention in multiple formats (e.g. individual, group, family). ITCT addresses both attachment and trauma related symptoms by improving skills in distress tolerance, emotion regulation, impulse control, stress management, self-esteem, and social skills. Additionally, ITCT promotes resiliency by including the child's existing social networks.
Child Parent Psychotherapy (CPP)
CPP (Child Parent Psychotherapy) is a treatment for trauma-exposed children age 0-5 and their caregivers.  The treatment addresses how the trauma has impacted the child-caregiver relationship and the child's development.  A primary goal of the treatment is to support and strengthen the child-caregiver relationship in a effort to restore and protect the child's mental health. 
Child & Family Traumatic Stress Intervention (CFTSI)
CFTSI (Child & Family Traumatic Stress Intervention) is an early intervention and prevention treatment to reduce traumatic stress in children age 7 to 18 years.  It is a brief therapy model (5 to 7 sessions) which works with both the child and caregiver together and seeks to increase communication about and provide skills to master the child's traumatic stress reactions. 
Alternatives for Families-Cognitive Behavioral Therapy (AF-CBT)
An evidence-based intervention designed to improve the relationship between children and their caregivers by addressing individual and family problems. During AF-CBT, children and their caregivers participate in separate but coordinated therapy sessions as well as joint sessions at various times throughout treatment. For caregivers and their child, age 5-17, office-based.